---
Silicon-based Integrated Sensors with On-chip Antennas: From THz Pulse Sources to Miniaturized Spectrometers Pulse Sources to Miniaturized Spectrometers
Speaker: Aydin Babakhani, UCLA
Time: 11:00 am - 12:00 pm Sep 5, 2018
Location: 370 Jay Seminar Room 1201, Brooklyn, NY
Abstract: Today's silicon process technology makes it possible to integrate everything from antennas to processors on a single chip at almost no cost. This creates new opportunities for implementing complex sensors and systems on a millimeter scale. To create such devices, an understanding of physics, waves, electromagnetics, and high-frequency electronics is essential. In this presentation, I will show how the convergence of these fields has resulted in single-chip picosecond pulse radiators, wirelessly synchronized chips with sub-psec synchronization accuracy, miniaturized spectrometers, and wirelessly powered sensors and actuators. In the first section of the talk, I will present techniques for generating and detecting picosecond pulses, based on a novel laser-free Digital-to-Impulse (D2I) radiation. This technology can produce broadband pulses with a record width of 1.9psec that cover a frequency spectrum from 30GHz to 1.1THz and that have a resolution of 2Hz at 1THz. I will discuss how this technology enables us to perform broadband THz spectroscopy, hyper-spectral 3D imaging, and Tbits/sec wireless communication. In the second part, I will present my work on precision time transfer and wireless synchronization of widely spaced chips. This technique eliminates the wires between the elements of a distributed array and makes it possible to build a highly flexible large aperture. In this section, I will also present my work on optical locking of microwave oscillators, which achieves a picosecond timing accuracy over a 1.5m distance. In the third section of the talk, I will focus on miniaturized spectrometers and sensors. I will discuss an Electron Paramagnetic Resonance (EPR) spectrometer that is based on a single-chip full-duplex transceiver for detecting paramagnetic chemicals and free radicals. The EPR sensor technology developed in my laboratory has been successfully deployed in major oil and gas fields in the United States and Canada. This technology is used to monitor the concentration of asphaltenes (a chemical that clogs oil wells) in real-time and to minimize the use of environmentally hazardous chemical inhibitors in energy production. I will further present my recent work on wirelessly powered microchips with on-chip antennas. These microchips are designed to perform sensing, actuation, and localization. I will provide examples of such microchips being used to pace the heart of a sheep and to trigger the leg movement of a rat. Finally, I will discuss the future directions of my research on building wirelessly powered single-chip electronic drugs for medical applications and electronic tracers for energy exploration as well as for industrial monitoring.
About the Speaker: Dr. Babakhani is an Associate Professor in the Electrical and Computer Engineering Department at UCLA and Director of UCLA Integrated Sensors Laboratory. Before joining UCLA, he was an Associate Professor of ECE at Rice University and the Director of Rice Integrated Systems and Circuits Laboratory. He was a Louis Owen Junior Chair Assistant Professor (2016-2017) and Assistant Professor of ECE (2011-2016) at Rice University. He is a member of DARPA Microsystems Exploratory Council (MEC) and a co-founder of MicroSilicon Inc. He received his B.S. degree in electrical engineering from Sharif University of Technology in 2003 and his M.S. and Ph.D. degrees in Electrical Engineering from Caltech in 2005 and 2008, respectively. He was a postdoctoral scholar at Caltech in 2009 and a research scientist at IBM Thomas J. Watson Research Center in 2010. Dr. Babakhani has been awarded multiple best paper awards, including the Best Paper Award at the IEEE SiRF conference in 2016, the Best Paper Award at the IEEE RWS Symposium in 2015, the Best Paper Award at the IEEE IMS Symposium in 2014, and the 2nd-place in the Best Paper Awards at the IEEE APS Symposium 2016 and IEEE IMS Symposium 2016. He has published more than 85 papers in peer-reviewed journals and conference proceedings as well as 21 issued or pending patents. He received a prestigious NSF CAREER award in 2015, an Innovation Award from Northrop Grumman in 2014, and a DARPA Young Faculty Award in 2012.
Physical Human-Robot Interaction in Robotic Neuro-Rehabilitation
Speaker: S. Farokh Atashzar, The University of Western Ontario, Canada
Time: 11:00 am - 12:00 pm Sep 6, 2018
Location: 370 Jay Seminar Room 1201, Brooklyn, NY
Abstract: The incidence rate of age-related neuromuscular disorders and movement disabilities is rapidly increasing worldwide due to an aging society. While better medical care has increased survival rates, it has resulted in more patients in need of neuro-rehabilitation and assessment services. Stroke is the leading cause of motor disabilities. There are more than 6 million stroke survivors living in the United States. About 90% of survivors experience long-term disabilities and often require labor- intensive kinesthetic rehabilitation services, for extended periods. This has placed a significant burden on healthcare systems. The situation is particularly concerning in remote areas where healthcare systems lack sufficient resources to serve the population of patients in need.
A potential solution is to develop smart mechatronic, robotic, and telerobotic technologies that provide safe and effective means of in-hospital and in-home kinesthetic neurorehabilitation and assessment services. In this regard, robotic rehabilitation systems have revolutionized the field of movement therapy. Combining sensorized force-enabled robotic systems with sophisticated virtual and augmented reality environments has provided a unique multimodal framework for neurorehabilitation and for studying sensorimotor characteristics of patients with neuromuscular disorders. Thus, during the last decade, utilization of robotic systems in neurorehabilitation and neuroscience has significantly increased.
Although there are specific advantages to the use of neuro-rehabilitation robotic systems, there still exist several technical and control challenges, such as (a) absence of direct physical interaction between the clinician and the patient who uses the robot, (b) limited accessibility in remote areas, (c) low transparency of the force field generated by the robotic system, and (d) questionable compatibility of the force field with biomechanical characteristics of the patient's limbs. The latter case relates to the stability (and safety) of robotic rehabilitation systems, and is of particular concern when high rehabilitative forces are needed for severely-disabled patients, when the robot is to be used in a patient's home, and when the patient experiences involuntary movements (that can mislead the control unit of a robotic system). The above-mentioned challenges will be discussed in this talk, and possible solutions will be presented. In this regard, some research projects focusing on telerobotic rehabilitation systems, stabilizing controllers for physical human-robot interaction, and tremor estimation and cancelation techniques will be introduced. It should be noted that in addition to the use of robots for therapeutic purposes, these systems have a high potential for studying various sensorimotor aspects of neuromuscular disorders. Thus, the talk will be concluded by some brief examples of robots that have been used to better understand neurological movement disorders such as Parkinson's Disease, Focal Hand Dystonia, and Cerebral Palsy.
This talk will be presented with a multidisciplinary audience in mind. The focus will be on topics related to neuro-rehabilitation robotics. Due to the time limitation, topics related to surgical robotics will not be presented; however, the audience is more than welcome to ask questions regarding top lines of research in the area of surgical robotics as well.
About the Speaker: Dr. S. Farokh Atashzar obtained his Ph.D. degree in Robotics and Control, a program under Electrical and Computer Engineering (ECE) Department at the University of Western Ontario (UWO), Canada, in 2016. Currently, he is a postdoctoral research associate at Canadian Surgical Technologies and Advanced Robotics (CSTAR) center. Farokh joined UWO, in 2011 to pursue his Ph.D. degree under the supervision of Prof. Rajni V. Patel. In 2012 and 2013, he was a doctoral trainee in the NSERC CREATE program in Computer-Assisted Medical Interventions (CAMI). He was a visiting research scholar at the Biorobotic Systems lab, University of Alberta, Canada, in 2014. Since 2015 he has conducted research for the Network of Centres of Excellence (NCE) program on "Aging Gracefully across Environments using Technology to Support Wellness, Engagement and Long Life (AGE- WELL)," focusing on design and control of neuro-rehabilitation robotic systems. Farokh has been the recipient of several prestigious awards including the Ontario Graduate Scholarship (OGS) in 2013, and NSERC Post-Doctoral Fellowship (PDF) in 2018. His national ranking in Canada for NSERC PDF competition was 5. Farokh's research interests broadly involve topics related to neurorehabilitation robotics, surgical robotics, physical human-robot interaction, advanced nonlinear control systems for robotic systems, vibration control in flexible robots, bio-signal processing, adaptive filters, and advanced machine learning techniques. His research has been reported in more than 28 journal papers, 30 peer- reviewed conference papers, and 2 book chapters. Farokh was the lead organizer for a workshop on "Physical Human-robot and Human-telerobot Interaction: From Theory to Application for Neuro- rehabilitation" in IEEE IROS 2017 conference; and a workshop on "Advanced Intelligent Mechatronics for Neuromuscular Rehabilitation and Recovery Assessment" in IEEE AIM 2016 conference. He was also a technical co-chair of a Symposium on "Advanced Bio-signal Processing for Rehabilitation & Assistive Systems," in 2017 IEEE GlobalSIP conference, and a co-organizer of the Special Session on "Bio-Signal Processing for Movement Assessment, Neuro-Rehabilitation, and Assistive Technologies," in 2017 IEEE SMC conference. ​Farokh is currently serving as the general chair of the symposium on "Advanced Bio-Signal Processing and Machine Learning for Medical Cyber-Physical Systems," in 2018 IEEE GlobalSIP conference, Anaheim, CA, USA. He is also a guest associate editor of the special issue on "Intelligent Human-Robot Interaction for Rehabilitation & Assistance," to be published in IEEE Robotics and Automation  Letters.
Physics and modeling of negative capacitance field-effect transistors
Speaker: Yogesh Singh Chauhan, Indian Institute of Technology Kanpur (IITK), India
Time: 11:00 am - 12:00 pm Sep 18, 2018
Location: 370 Jay Seminar Room 1201, Brooklyn, NY
Abstract: The ongoing scaling of CMOS technology is now reaching its limit, due to supply voltage reduction being restricted by the subthreshold swing (SS) of 60mV/decade achievable at room temperature owing to Boltzmann transport of the charge carriers. Concept of negative capacitance proposed to achieve a sub-60mV/decade SS is currently seen as one of the potential solutions to the problem. A "negative capacitance transistor (NCFET)" employs a ferroelectric material in the gate stack of a FET providing a negative capacitance and thereby an "internal voltage amplification" at the gate of the internal FET which helps in reducing SS. Several experiments have successfully demonstrated an improved SS with the bulk MOSFET, FinFET, and 2D FETs. The improvement in subthreshold characteristics is also accompanied with the advantage of an increased ON current relative to the reference FET as has been observed both in simulation studies and experiments. In this talk, I will discuss the physics and modeling of various NCFET structures and impact of this new transistor on circuits including processors.
About the Speaker: Yogesh Singh Chauhan is an associate professor at Indian Institute of Technology Kanpur (IITK), India. He was with Semiconductor Research & Development Center at IBM Bangalore during 2007 – 2010; Tokyo Institute of Technology in 2010; University of California Berkeley during 2010-2012; and ST Microelectronics during 2003-2004. He is the developer of industry standard BSIM-BULK (formerly BSIM6) model for bulk MOSFETs and ASM-HEMT model for GaN HEMTs. His group is also involved in developing compact models for FinFET, Nanosheet/Gate-All-Around FET, FDSOI transistors, Negative Capacitance FETs and 2D FETs.
He is the Editor of IEEE Transactions on Electron Devices and Distinguished Lecturer of the IEEE Electron Devices Society. He is the member of IEEE-EDS Compact Modeling Committee and fellow of Indian National Young Academy of Science (INYAS). He is the founding chairperson of IEEE Electron Devices Society U.P. chapter and Vice-chairperson of IEEE U.P. section. He has published more than 200 papers in international journals and conferences.
He received Ramanujan fellowship in 2012, IBM faculty award in 2013 and P. K. Kelkar fellowship in 2015, CNR Rao faculty award and Humboldt fellowship in 2018. His research interests are characterization, modeling, and simulation of semiconductor devices. He has served in the technical program committees of IEEE International Electron Devices Meeting (IEDM), IEEE International Conference on Simulation of Semiconductor Processes and Devices (SISPAD), IEEE European Solid-State Device Research Conference (ESSDERC), IEEE Electron Devices Technology and Manufacturing (EDTM), and IEEE International Conference on VLSI Design and International Conference on Embedded Systems.
Imitating the Clairvoyant Oracle: From Information Gathering to Grounded Visual Navigation via Natural Language
Speaker: Debadeepta Dey, Microsoft
Time: 11:00 am - 12:00 pm Sep 25, 2018
Location: 370 Jay Seminar Room 1201, Brooklyn, NY
Abstract: In the adaptive information gathering problem, a robot is required to select an informative sensing location using the history of measurements acquired thus far. While there is an extensive amount of prior work investigating effective practical approximations using variants of Shannon's entropy, the efficacy of such policies greatly depends on the geometric distribution of objects in the world. On the other hand, the principled approach of employing online POMDP solvers is rendered impractical by the need to explicitly sample online from a posterior distribution of world maps. We present a novel data-driven imitation learning framework to efficiently train information gathering policies. The policy imitates a clairvoyant oracle - an oracle that at training time has full knowledge about the world map and can compute maximally informative sensing locations. We analyze the learnt policy by showing that offline imitation of a clairvoyant oracle is implicitly equivalent to online oracle execution in conjunction with posterior sampling. This observation allows us to obtain powerful near-optimality guarantees for information gathering problems possessing an adaptive submodularity property. As we demonstrate on a spectrum of 2D and 3D exploration problems with aerial vehicles, the trained policies enjoy the best of both worlds - they adapt to different world map distributions while being computationally inexpensive to evaluate.
We also show in very recent work that this idea of imitating a clairvoyant oracle (in a learning-to-search framework) yields better performing policies for the task of visual navigation from natural language instructions in indoor environments. I will also provide a quick overview of ongoing exciting reinforcement and imitation learning related projects in MSR Redmond.
About the Speaker: Debadeepta Dey is a researcher in the Adaptive Systems and Interaction (ASI) group at Microsoft Research, Redmond. He received his PhD at the Robotics Institute, Carnegie Mellon University. He conducts fundamental as well as applied research at the intersection of machine learning, controls and computer vision with applications to autonomous agents in general and robotics in particular with an aim to bridge the gap between perception and action. His interests include decision-making under uncertainty, reinforcement learning, planning and perception.
Circuits: Terahertz (THz) and Beyond Seminar Series: Terahertz Communications: From Nanomaterials to Ultra-broadband Networks Frequencies
Speaker: Josep Miquel Jornet, University at Buffalo
Time: 11:00 am - 12:00 pm Sep 27, 2018
Location: 370 Jay Seminar Room 1201, Brooklyn, NY
Abstract: Wireless data traffic has grown exponentially in recent years due to a change in the way today's society creates, shares and consumes information. This change has been accompanied by an increasing demand for higher speed wireless communications, anywhere, anytime. Following the current trend, wireless Terabit-per-second (Tbps) links are expected to become a reality within the next ten years. In this context, Terahertz (THz)-band (0.1-10 THz) communication is envisioned as a key wireless technology of the next decade. The THz band will help overcome the spectrum scarcity problems and capacity limitations of current wireless networks, by providing an unprecedentedly large bandwidth. In addition, THz-band communication will enable a plethora of long-awaited applications, both at the nano-scale and at the macro-scale, ranging from wireless massive-core computing architectures and instantaneous data transfer among non-invasive nano-devices, to ultra-high-definition content streaming among mobile devices and wireless high-bandwidth secure communications. In this seminar, an in-depth view of THz-band communication networks will be provided. First, the state of the art and open challenges in the design and development of THz transceivers and antennas will be presented, with special emphasis on novel hybrid graphene/semiconductor plasmonic devices. Then, the current progress and future research directions in terms of channel modeling, physical and link layers design, will be tackled in a bottom-up approach, defining a roadmap for the development of this next frontier in wireless communication.
About the Speaker: Josep M. Jornet is an Assistant Professor in the Department of Electrical Engineering at the University at Buffalo (UB), The State University of New York. He received the B.S. in Telecommunication Engineering and the M.Sc. in Information and Communication Technologies from the Universitat Politecnica de Catalunya, Barcelona, Spain, in 2008. He received the Ph.D. degree in Electrical and Computer Engineering from the Georgia Institute of Technology (Georgia Tech), Atlanta, GA, in 2013. From September 2007 to December 2008, he was a visiting researcher at the Massachusetts Institute of Technology (MIT), Cambridge, under the MIT Sea Grant program. He was the recipient of the Oscar P. Cleaver Award for outstanding graduate students in the School of Electrical and Computer Engineering, at Georgia Tech in 2009. He also received the Broadband Wireless Networking Lab Researcher of the Year Award in 2010. In 2016, 2017 and 2018, he received the Distinguished TPC Member Award at the IEEE International Conference on Computer Communications (INFOCOM). In 2017, he received the IEEE Communications Society Young Professional Best Innovation Award, the ACM NanoCom Outstanding Milestone Award and the UB SEAS Early Career Researcher of the Year Award. In 2018, he received the UB Exceptional Scholar Award, Young Investigator Award. His current research interests are in Terahertz-band communication networks, Wireless Nano-bio-sensing Networks, and the Internet of Nano-Things. In these areas, he has co-authored more than 100 peer-reviewed scientific publications, 1 book, and has also been granted 3 US patents. Since July 2016, he is the Editor-in-Chief of the Nano Communication Networks (Elsevier) Journal and serves in the Steering Committee of the ACM/IEEE NanoCom Conference Series. He is a member of the IEEE, the ACM and the SPIE.
Circuits: Terahertz (THz) and Beyond Seminar Series: Monolithic Phased Arrays: Radiofrequencies to Optical Frequencies
Speaker: Hossein Hashemi, USC
Time: 11:00 am - 12:00 pm Oct 3, 2018
Location: 370 Jay Seminar Room 1201, Brooklyn, NY
Abstract: In 1909, accepting the Nobel Prize for Physics for "contributions to the development of wireless telegraphy", Karl Ferdinand Braun stated "It had always seemed most desirable to me to transmit the waves, in the main, in one direction only." He also presented a schematic of a three-antenna system that can form a desired beam in one direction. In the following decades, this simple scheme was advanced to large-scaled phased arrays used for military radars in WWII and beyond. In 1965, Gordon Moore predicted that advancement in integrated circuit technology will enable monolithic microwave phased arrays that can revolutionize radar. Nearly four decades later, monolithic microwave silicon phased arrays were reported for the first time. Today, monolithic radio frequency, microwave, and millimeter wave phased arrays are turning mainstream in commercial products including automotive radars and high speed wireless transceivers including those for the upcoming 5G wireless standards.
Shortly following the invention of laser in 1960, electronically-steerable laser beam was conceived to be useful in optical radars (nowadays known as lidars), free-space optical communications with moving transmitter and/or receiver, and projection television. While optical beam steering has been around for several decades, monolithic optical phased arrays are more recent thanks to advancements in fabrication technology. Very recently, the interest in optical beam-steering and monolithic optical phased arrays has increased thanks to the application of low-cost compact lidar in self-driving cars. Other potential application of optical phased arrays include free-space optical communications, imaging, sensing, display, and holography.
This talk will cover the basics, history, and applications of phased arrays followed by selected state-of-the-art realizations of phased array systems and related components from radio frequencies up to optical frequencies.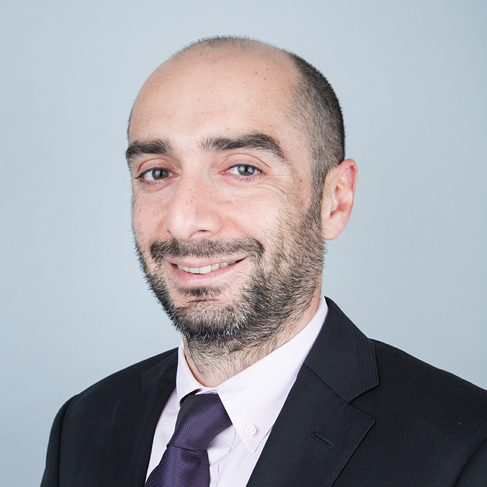 About the Speaker: Hossein Hashemi is a Professor of Electrical Engineering, Ming Hsieh Faculty Fellow, and the co-director of the Ming Hsieh Institute at the University of Southern California. His research interests include analog, mixed-signal, and radio-frequency integrated circuits; photonic integrated circuits; electro-optical integrated systems; and implantable integrated solutions. He received the B.S. and M.S. degrees in Electronics Engineering from the Sharif University of Technology, Tehran, Iran, in 1997 and 1999, respectively, and the M.S. and Ph.D. degrees in Electrical Engineering from the California Institute of Technology, Pasadena, in 2001 and 2003, respectively. Hossein is an Associate Editor for the IEEE Journal of Solid state Circuits (2013 – present). He was a Distinguished Lecturer for the IEEE Solid-State Circuits Society (2013 – 2014); member of the Technical Program Committee of IEEE International Solid-State Circuits Conference (ISSCC) (2011 – 2015), IEEE Radio Frequency Integrated Circuits (RFIC) Symposium (2011 – present), and the IEEE Compound Semiconductor Integrated Circuits Symposium (CSICS) (2010 – 2014); an Associate Editor for the IEEE Transactions on Circuits and Systems—Part I: Regular Papers (2006–2007) and the IEEE Transactions on Circuits and Systems—Part II: Express Briefs (2004–2005); and Guest Editor for the IEEE Journal of Solid state Circuits (Oct 2013 & Dec 2013).
Hossein was the recipient of the 2016 Nokia Bell Labs Prize, 2015 IEEE Microwave Theory and Techniques Society (MTT-S) Outstanding Young Engineer Award, 2008 Defense Advanced Research Projects Agency (DARPA) Young Faculty Award, and a National Science Foundation (NSF) CAREER Award. He received the USC Viterbi School of Engineering Junior Faculty Research Award in 2008, and was recognized as a Distinguished Scholar for the Outstanding Achievement in Advancement of Engineering by the Association of Professors and Scholars of Iranian Heritage in 2011. He was a co-recipient of the 2004 IEEE Journal of Solid-State Circuits Best Paper Award for "A Fully-Integrated 24 GHz 8-Element Phased-Array Receiver in Silicon" and the 2007 IEEE International Solid-State Circuits Conference (ISSCC) Lewis Winner Award for Outstanding Paper for "A Fully Integrated 24 GHz 4-Channel Phased-Array Transceiver in 0.13um CMOS based on a Variable Phase Ring Oscillator and PLL Architecture".
Hossein is the co-editor of the books "Millimeter-Wave Silicon Technology: 60 GHz and Beyond" published by Springer in 2008, and "mm-Wave Silicon Power Amplifiers and Transmitters" published by the Cambridge University Press in 2016.
Modern Artificial Intelligence Seminar Series: The AI Trinity: Data + Algorithms + Infrastructure
Speaker: Anima Anandkumar, Caltech
Time: 11:00 am - 12:00 pm Oct 9, 2018
Location: 370 Jay Seminar Room 1201, Brooklyn, NY
Abstract: AI at scale requires a perfect storm of data, algorithms and cloud infrastructure. Modern deep learning has relied on large labeled datasets for training. However, such datasets are not easily available in all domains, and are expensive/difficult to collect. By building intelligence into data collection and aggregation, we can drastically reduce data requirements. Additionally, algorithmic and infrastructure innovations now make it possible to train models at scale. In future, we will see more integration of these three pillars to advance AI.
About the Speaker: Anima Anandkumar is a Bren professor at Computing + Mathematical sciences department at Caltech. Anima Anandkumar's research interests span theory and practice of large-scale machine learning. In particular, she has been spearheading the development and analysis of tensor algorithms for machine learning. She is the recipient of several awards such as the Bren endowed chair professorship at Caltech, Alfred. P. Sloan Fellowship, Microsoft Faculty Fellowship, Google research award, ARO and AFOSR Young Investigator Awards, NSF Career Award, and several best paper awards. She received her B.Tech in Electrical Engineering from IIT Madras in 2004 and her PhD from Cornell University in 2009. She was a postdoctoral researcher at MIT from 2009 to 2010, an assistant professor at U.C. Irvine between 2010 and 2016, a visiting researcher at Microsoft Research New England in 2012 and 2014, and a Principal Scientist at Amazon Web Services between 2016-2018.
Dean's Lecture: The Era of Artificial Intelligence
Speaker: Kai-Fu Lee, Chairman and CEO of Sinovation Ventures
Time: 1:00 pm - 3:00 pm Oct 9, 2018
Location: 370 Jay, Seminar Room 202, Brooklyn, NY
Abstract: In this talk, I will talk about the four waves of Artificial Intelligence (AI) , and how AI will permeate every part of our lives in the next decade.  I will also talk about how this will be different from previous technology revolutions -- it will be faster and be driven by not one superpower, but two (US and China).  AI will add $16 trillion to our global GDP, but also cause many challenges that will be hard to solve.  I will talk in particular about AI replacing routine jobs -- the consequences, the proposed solutions that don't work (such as UBI), and end with a blueprint of co-existence between humans and AI.
About the Speaker: Dr. Kai-Fu Lee is the Chairman and CEO of Sinovation Ventures ( www.sinovationventures.com) and President of Sinovation Venture's Artificial Intelligence Institute. Sinovation Ventures, managing US$1.7 billion dual currency investment funds, is a leading venture capital firm focusing on developing the next generation of Chinese high-tech companies. Prior to founding Sinovation in 2009, Dr. Lee was the President of Google China. Previously, he held executive positions at Microsoft, SGI, and Apple. Dr. Lee received his Bachelor degree from Computer Science from Columbia University, Ph.D. from Carnegie Mellon University, as well as Honorary Doctorate Degrees from both Carnegie Mellon and the City University of Hong Kong. He was named one of the most influential 100 people in the world by Time in 2013.  He is also a Fellow of the Institute of Electrical and Electronics Engineers (IEEE), and followed by over 50 million audience on social media.
In the field of artificial intelligence, Dr. Lee built one of the first game playing programs to defeat a world champion (1988, Othello), as well as the world's first large-vocabulary, speaker-independent continuous speech recognition system.  Dr. Lee founded Microsoft Research China, which was named as the hottest research lab by MIT Technology Review. Later renamed Microsoft Research Asia, this institute trained the great majority of AI leaders in China, including CTOs or AI heads at Baidu, Tencent, Alibaba, Lenovo, Huawei, and Haier. While with Apple, Dr. Lee led AI projects in speech and natural language, which have been featured on Good Morning America on ABC Television and the front page of Wall Street Journal. He has authored 10 U.S. patents, and more than 100 journal and conference papers. Altogether, Dr. Lee has been in artificial intelligence research, development, and investment for more than 30 years. His latest book AI Superpowers (aisuperpowers.com) releasing fall 2018 discusses US-China co-leadership in the age of AI as well as the greater societal impacts brought upon by the AI technology revolution.
Circuits: Terahertz (THz) and Beyond Seminar Series: Wireless above 100 GHz
Speaker: Mark Rodwell, University of California, Santa Barbara
Time: 11:00 am - 12:00 pm Oct 11, 2018
Location: 370 Jay, Seminar Room 202, Brooklyn, NY
Abstract: With the RF bands below ~5GHz soon to be exhausted, industry is poised to move to 5G systems, with carriers at 28, 38, 57-71(WiGig), and 71-86GHz. Research now explores the next generation of wireless systems, these operating between 100-340GHz. Such systems can support massive spatial multiplexing in both endpoint and backhaul links, and will require high-frequency transistors in VLSI and in III-V technologies, phased-array transceiver front-ends, and complex silicon RF ICs to form and aim multiple beams and to null or equalize multipath interference. We will summarize THz transistor design, IC development from 100-1000 GHz, and array and system design.
About the Speaker: Mark Rodwell (Ph.D. Stanford University 1988) holds the Doluca Family Endowed Chair in Electrical and Computer Engineering at UCSB. He directs the SRC/DARPA Center for Converged TeraHertz Communications and Sensing. His research group develops nm and THz transistors, and mm-wave and sub-mm-wave integrated circuits and systems. The work of his group and collaborators has been recognized by the 2010 IEEE Sarnoff Award, the 2012 IEEE Marconi Prize Paper Award, the 1997 IEEE Microwave Prize, the 1998 European Microwave Conference Microwave Prize, and the 2009 IEEE IPRM Conference Award.
Jack Keil Wolf Lecture Series: Guessing Random Additive Noise Decoding (GRAND)
Speaker: Muriel Medard, MIT
Time: 11:00 am - 12:00 pm Oct 18, 2018
Location: 370 Jay Room 202, Brooklyn, NY
Abstract: We introduce a new algorithm for Maximum Likelihood (ML) decoding based on guessing noise. The algorithm is based on the principle that the receiver rank orders noise sequences from most likely to least likely. Subtracting noise from the received signal in that order, the first instance that results in an element of the code-book is the ML decoding. For common additive noise channels, we establish that the algorithm is capacity achieving for uniformly selected code-books, providing an intuitive alternate approach to the channel coding theorem. When the code-book rate is less than capacity, we identify exact asymptotic error exponents as the block-length becomes large. We illustrate the practical usefulness of our approach in terms of speeding up decoding for existing codes.
Joint work with Ken Duffy, Kishori Konwar, Jiange Li, Prakash Narayana Moorthy, Amit Solomon.
About the Speaker: Muriel Medard is the Cecil H. Green Professor in the Electrical Engineering and Computer Science (EECS) Department at MIT and leads the Network Coding and Reliable Communications Group at the Research Laboratory for Electronics at MIT. She has co-founded three companies to commercialize network coding, CodeOn, Steinwurf and Chocolate Cloud. She has served as editor for many publications of the Institute of Electrical and Electronics Engineers (IEEE), of which she was elected Fellow, and she has served as Editor in Chief of the IEEE Journal on Selected Areas in Communications. She was President of the IEEE Information Theory Society in 2012, and served on its board of governors for eleven years. She has served as technical program committee co-chair of many of the major conferences in information theory, communications and networking. She received the 2009 IEEE Communication Society and Information Theory Society Joint Paper Award, the 2009 William R. Bennett Prize in the Field of Communications Networking, the 2002 IEEE Leon K. Kirchmayer Prize Paper Award, the 2018 ACM SIGCOMM Test of Time Paper Award and several conference paper awards. She was co-winner of the MIT 2004 Harold E. Edgerton Faculty Achievement Award, received the 2013 EECS Graduate Student Association Mentor Award and served as Housemaster for seven years. In 2007 she was named a Gilbreth Lecturer by the U.S. National Academy of Engineering. She received the 2016 IEEE Vehicular Technology James Evans Avant Garde Award, the 2017 Aaron Wyner Distinguished Service Award from the IEEE Information Theory Society and the 2017 IEEE Communications Society Edwin Howard Armstrong Achievement Award.
Circuits: Terahertz (THz) and Beyond Seminar Series: Enabling the Third Wireless Revolution through Transformative RF/mmWave Circuits, Wireless Systems and Sensing Paradigms
Speaker: Harish Krishnaswamy, Columbia University
Time: 11:00 am - 12:00 pm Nov 7, 2018
Location: 370 Jay Seminar Room 1201, Brooklyn, NY
Abstract:TBD
About the Speaker: Harish Krishnaswamy (S'03–M'09) received the B.Tech. degree in electrical engineering from IIT Madras, Chennai, India, in 2001, and the M.S. and Ph.D. degrees in electrical engineering from the University of Southern California (USC), Los Angeles, CA, USA, in 2003 and 2009, respectively. In 2009, he joined the Electrical Engineering Department, Columbia University, New York, NY, USA, where he is currently an Associate Professor and the Director of the Columbia High-Speed and Millimeter-Wave IC Laboratory (CoSMIC).
In 2017, he co-founded MixComm Inc., a venture-backed startup, to commercialize CoSMIC Laboratory's advanced wireless research. His current research interests include integrated devices, circuits, and systems for a variety of RF, mmWave, and sub-mmWave applications.
​ Dr. Krishnaswamy was a recipient of the IEEE International Solid-State Circuits Conference Lewis Winner Award for Outstanding Paper in 2007, the Best Thesis in Experimental Research Award from the USC Viterbi School of Engineering in 2009, the Defense Advanced Research Projects Agency Young Faculty Award in 2011, the 2014 IBM Faculty Award, the Best Demo Award at the 2017 IEEE ISSCC, and Best Student Paper Awards (First Place) at the 2015 and 2018 IEEE Radio Frequency Integrated Circuits Symposium . He has been a member of the technical program committee of several conferences, including the IEEE International Solid-State Circuits Conference since 2015 and the IEEE Radio Frequency Integrated Circuits Symposium since 2013. He currently serves as a Distinguished Lecturer for the IEEE Solid-State Circuits Society and as a member of the DARPA Microelectronics Exploratory Council.
Circuits: Terahertz (THz) and Beyond Seminar Series: Channel measurements above 100 GHz
Speaker: Daniel M. Mittleman, Brown University
Time: Nov 15, 2018
Location: TBD
About the Speaker: Dr. Mittleman received his B.S. in physics from the Massachusetts Institute of Technology in 1988, and his M.S. in 1990 and Ph.D. in 1994, both in physics from the University of California, Berkeley, under the direction of Dr. Charles Shank. He then joined AT&T Bell Laboratories as a post-doctoral member of the technical staff, working first for Dr. Richard Freeman on a terawatt laser system, and then for Dr. Martin Nuss on terahertz spectroscopy and imaging. Dr. Mittleman joined the ECE Department at Rice University in September 1996. In 2015, he moved to the School of Engineering at Brown University. His research interests involve the science and technology of terahertz radiation. He is a Fellow of the OSA, the APS, and the IEEE, and is a 2018 recipient of the Humboldt Research Award. He currently serving a three-year term as Chair of the International Society for Infrared Millimeter and Terahertz Waves.
Circuits: Terahertz (THz) and Beyond Seminar Series: Out of Many, Many: The Path towards Scalable, Integrated, mm-Wave MIMO Arrays
Speaker: Arun Natarajan, Oregon State University
Time: 11:00 am - 12:00 pm Dec 6, 2018
Location: 370 Jay Street, Seminar Room 1201, Brooklyn, NY
Abstract: Wireless data usage is doubling every year and network providers are projecting demand approaching 1Gb/user/day, necessitating a 1000x increase in network capacity and 100x increase in worst-case data rates with perhaps only 2x increase in available spectrum at frequencies below 3GHz. Future cellular wireless networks will evolve to higher center frequencies that provide larger available spectrum and to ultra-dense multi-user MIMO (MU-MIMO) with heterogenous cell size (macro, pico, femto) for increased spatial spectrum reuse. Therefore, scalable RF and mm-wave transceivers with 10 (user terminal) to 1000 (base station) elements operating in ad- hoc frequency-reuse scenarios are the future paradigm for wireless transceivers. Over the last 15 years, the feasibility of integrating multiple transceivers in silicon to achieve multiple-input single-output phased-array operation has been extensively demonstrated. However, MIMO transceivers that preserve all spatial degrees of freedom promise much higher data rates and support for digital multi-beam forming. Building such scalable digital-intensive MIMO radios will require energy-efficient scalable RF/mm-wave interfaces, interferer tolerance and scalable array synchronization. In this talk, I will explore these challenges and present our research on scalable efficient mm-wave antenna-IC interfaces, reconfigurable MIMO spectral/spatial/code- domain filtering and array-level clock synchronization, focusing on architectures/circuits that potentially improve upon simple scaling of single-element transceivers for MIMO arrays.
About the Speaker: Dr. Natarajan's research is focused on mm-wave and sub-mmwave integrated circuits and systems for high-speed wireless communication and imaging. He received the B.Tech. degree in electrical engineering from the Indian Institute of Technology, Madras, in 2001 and the M.S. and Ph.D. degrees in electrical engineering from the California Institute of Technology (Caltech), Pasadena, in 2003 and 2007, respectively. From 2007 to 2012, he was a Research Staff Member at IBM T. J. Watson Research Center, NY and worked on mm-wave phased arrays for multi-Gb /s data links and airborne radar and on self-healing circuits for increased yield in sub-micron process technologies. Dr. Natarajan received the National Talent Search Scholarship from the Government of India [1995-2000], the Caltech Atwood Fellowship in 2001, the Analog Devices Outstanding Student IC Designer Award in 2004, and the IBM Research Fellowship in 2005, and serves on the Technical Program Committee of the IEEE Radio-Frequency Integrated Circuits (RFIC) Conference.